"Yosemite National Park"

Friday, 30.7.99 We left Berkley around four o´clock with a good load of delicous stuff from Andronico´s supermarket and headed east on 580, through the windmills of the coastal range. We stopped to take a picture and it was very windy to Anne´s surprise. She asked:" Where does the wind come from, from the windmills??" (by the way, she is doing her Ph.D. in law...).

After that adventure, we had a double whopper with cheese and bacon at Burger King and went through a wonderful picturesque valley (which reminded me a lot of Akaroa Peninsula in NZ), where we witnessed a wonderful sunset.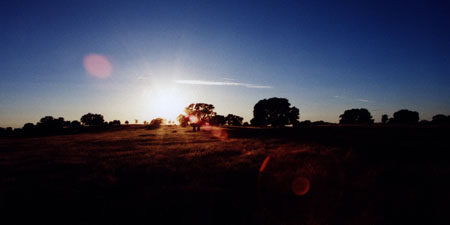 The further ride was in the dark and it took us 6-7 hours driving time from Berkley to Wawona Hotel, where we had a room for the next 3 nights. We checked in around 10:30pm and saw a very our very strange hotel room: no windows, no bathroom and a little queen sized bed... Saturday, 31.7.99 Thanks to our room neighbours, we had the chance to get up at 6am the following morning and get the complimentary morning coffe (served only from 6-8am). We took our breakfast on the veranda of the Hotel and enjoyed the cheese and salami variety of Andronico´s.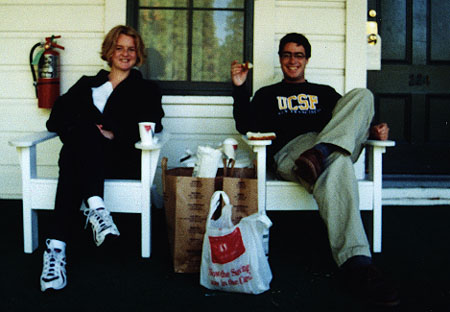 Our first visit was the Mariposa Grove with the giant sequoia trees, where we walked through the walk-through sequioa. While taking a lot of tree pictures, I recalled my stay in Yosemite with my family 14 years ago. The trees did not seem THAT big this time, but were still very impressing, especially the 2700 years old "Grizzly Giant".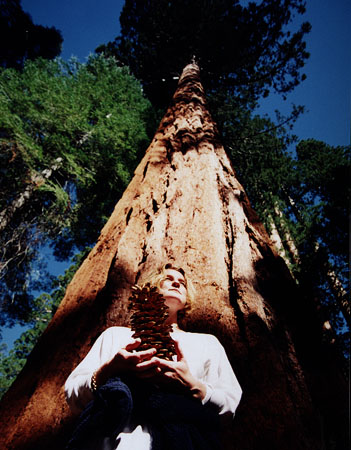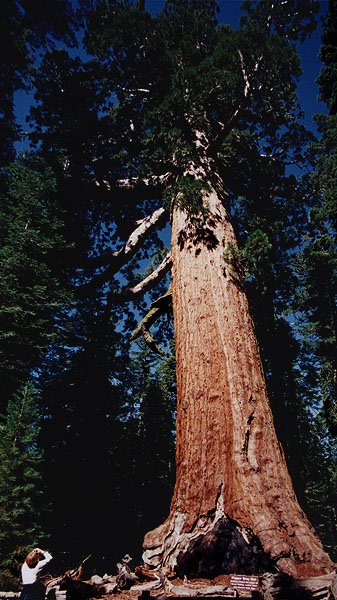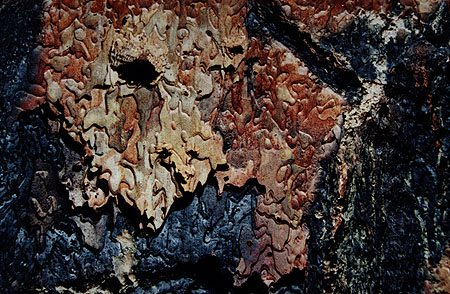 We headed to Yosemite Valley and found the road we had travelled the night before in darkness to be full of unbelievable sights, so we stopped quite often and kept taking pix. We stopped at the famous Tunnel view vista point,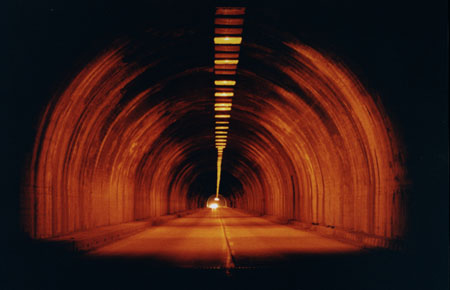 where I tried to immitate Ansel Adams (like 150 other tourist photographers at thesame time :).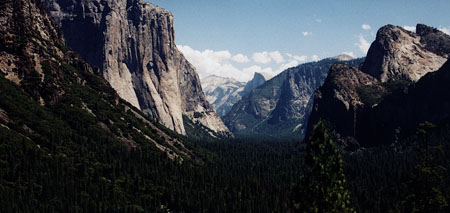 We reached the Valley at around 1:30pm and tried to get into the Ahwahnee Hotel, but did not succeed in finding a parking place. So we bought our lunch in the supermarket and went to a campground to eat in the company of squirrels and blue birds. Strengthened we took the shuttle bus to Mirror Lake, where we hiked in the bushes.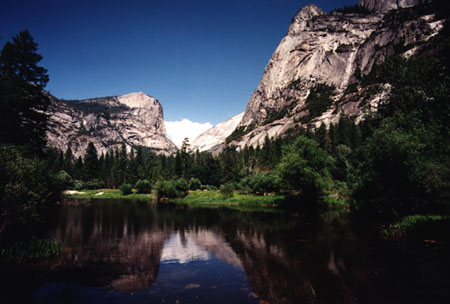 The daylight started to fade, so we took of to "Glacier Point", to see an incredible "Half Dome", red lighted by the sunset. The camera equipment of my fellow tourists showed every format and firm available to a photographer today.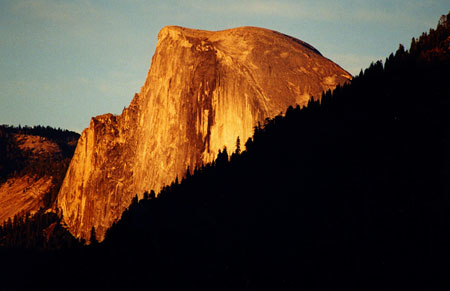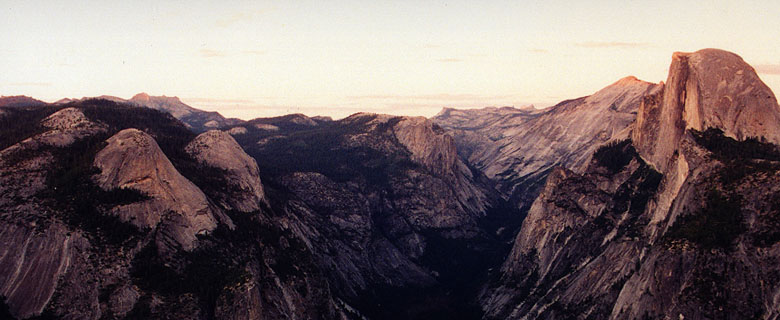 We liked it that much, that we decided to come back the next day. Our dinner that day consisted of cheese and bread and red wine (red zinfandel from california, introduced to me by Dr. Goldberg), we had brought from San Francisco. Sunday, 1.8.99 Thanks to the absence of out room neighbours, we had the chance to sleep until 10 that morning and had a big brunch in the Hotel´s dining room. We left well fed to Glacier Point, where Anne had a course in the basics of photography. We enjoyed the view for several hours

and went then to hike at "Taft Point". the hike led us through an irreal forrest, that looked like the perfect setting for every fairy tale imaginable. Arriving at "Taft Point", we had an unbelievable view over the valley.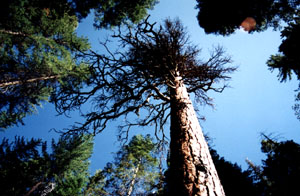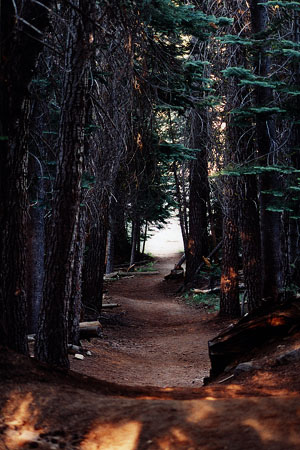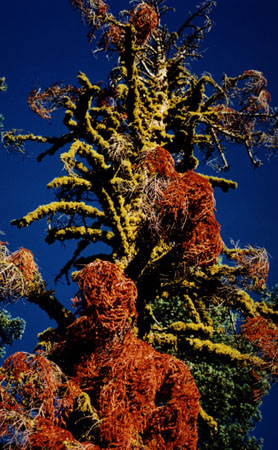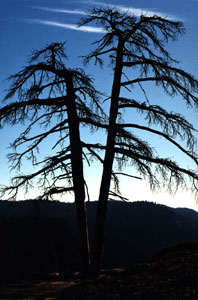 We then went back and drove to "Tunnel View", to see the sunset there. On the way back to our hotel we saw the spectacular lightplay over the sierra. The sky was in flames.

We arrived hungry at our hotel at 9:30pm, but had to find out, that the dining room closed at 9pm. So we took the advice of a family we had chatted with before and went to a burgerplace outside of Yosemite, where we had a buffalo burger made of (surprise) buffalo meat. Dont ask me to tell any difference between minced meat! ... it was an excellent burger. Monday, 2.8.99 We slept till 9am and left after a coffee for SF. We stopped at the most important places again and took some last pictures. It took a bit longer, because the Yosemite Rangers had closed one major lane. One worker was cleaning that lane with a strong ventilator of not really visible debris, while a pilot car made sure we were not driving faster than 7miles/hour. ...????... Anyhow, we made it home just in time (we had to be there at 6pm, we were there at 5:58pm :) to return the car, even though the new Chevy Malibu made funny noises above 90 miles per hour.